For all our metal heads out there I want to offer some tour dates for some up coming shows. Even if your a particular about your music I'm sure you'll see something you like.
2016 Tour Dates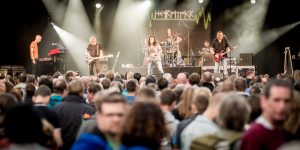 Slipknot & Marilyn Manson 6/28:7/27
Last couple days to catch Slipknot and Marilyn Manson unite for one of the most popular summer tours hitting almost 40 US cities. The Two headliners are accompanied by Of Mice and Men and will be coming to a conclusion August 27th.
Kiss – 7/7:9/10
Join Kiss in the Freedom to Rock tour this summer. Tour finishes September 10th so there is still plenty of time to hangout with Kiss on tour. It's hard to say how long these guys will continue to rock the stage, so make sure to catch your painted faced rockers before their tour days are over.
Disturbed & Breaking Benjamin – 7/9:8/19
These two bands are back with a vengeance and looking to take over the stage after releasing chart topping records respectively. Don't miss this duo, and Alter Bridge and Saint Asonia as they bring down the house together.
Korn & Rob Zombie – 7/19:9/3
Didn't get enough head banging this summer? Don't miss Korn and Rob Zombie take the stage accompanied by In This Moment.
Blink-182  – 7/22:10/1
If you like the classic punk rockers, then join them as they reunite for an epic summer tour. One of the longest summer tours, the bands will be accompanied A Day TO Remember, All American Rejects, and All Time Low. This tour will invoke some emotions from those who grew up with these bands in the 90's
Alice Cooper – 10/4:10/30
America's favorite theatrical musician is back on the stage after accompanying Motely Crue earlier this year for their farewell tour.
Def Leppard – 9/14:10/10
Def Leppard is performing a huge tour this year with over 50 stops, after launching their newest self titled album.
There is a lot to see this summer for music lovers. Huge Summer tours and some great bands making their final appearances. Don't stay inside this summer, and make sure to get out and see some our favorites in person.